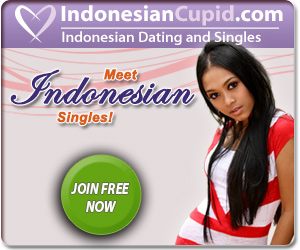 When it comes to Online Dating in Bali, there are not a lot of options to choose from. But the available options are pretty damn good.
Online dating can be used for a variety of reasons. Some people are looking for a girlfriend, some are looking for a one night stand, while others are looking for a fun travel guide to show them around.
For me personally, I always start with the fun travel guide option. Then if we get along with our daytime date, I move it to an evening…and then an all night date.
Online dating in Bali is easy. Here are 7 Proven Steps to take:
Step 1 – Join This Website
Indonesian Cupid (www.indonesiancupid.com) is hands the best dating website in Bali. I've tried every other site ranging from free to paid websites. But this is the only website that actually had attractive girls joining every day.
It costs about 30usd a month, but is well worth it. When considering that one drink in Bali can cost 5 – 10usd, the website cost is nothing when you will have dates lined up and ready for you even before arriving to Bali (strategy explained below).
Step 2 – Prepare Your Profile
I'll tell you right off the bat, you don't need to be a good looking model to succeed with online dating in Bali. The fact is, you are already coming in well ahead of all locals because you are a foreigner, which the women of Bali love.
When it comes to your online profile here are my tips:
Post at least 3 photos of yourself doing something that you enjoy
Have a good headline
In your profile introduce yourself and say you are looking for new friends to show you around
You don't want to come off as a creep saying you want sex or an Asian wife. You are simply a good guy who is new to Bali and want to make some friends.
Step 3 – Find The Girls You Like
This is the fun part. Use the search option and find the girls you like. For me personally, I like girls between the ages of 19 and 28.
Sort from most recent active and just work your way down the list.
Also sort from the newest members first. Because many of the hottest girls will get a lot of messages when they post their first photo. Try to be one of the first to send a message to the newest members that catch your eye.
Step 4 – Send Message
This is where many guys fuck up when it comes to online dating in Bali. They send long messages trying to explain how awesome they are and how they are looking for a girlfriend. Forget that!
Your first message has one objective, get her to look at your profile and get a response! My first message is very simple and basic:
Hey, I think you're cute and I'd like to chat with you. What is your (insert name / skype / line / whatsapp)
Step 5 – Start Chatting
Start chatting with her off of the website as soon as possible. As long as she is logged into the website other men can message her. You want her full attention.
So you want to start chatting with her using Skype or if she has a smart phone, use the chatting applications Line, Whatsapp, or WeChat.
Step 6 – Video Chat
After you've talked with her on voice chat for a while, migrate to video chat so you can verify that she is cute enough for you to meet. The one sad fact with meeting women online is that they rarely look as good as their photos.
Step 7 – Date
Once you're at this point, the rest is easy. If you are already in Bali, set up a date immediately. If you are not yet in Bali, continue chatting with her and set up the date whenever is convenient.
– – – – – – – – – – – –
Online dating in Asia is super easy. Just don't complicate the process and have fun with it. You can meet some amazing women this way!